We have (some) flooring, we have cabinets, there's no holes in the walls, we're so close to having a real kitchen! I'm so relieved that all the plumbing and foundation repair is behind us and this space is finally starting to look like a room again. Here's what we started with in the kitchen:
After demo, we basically re-plumbed the entire house and also repoured the foundation in the back half of the kitchen. At one point the whole back of the kitchen was a pile of dirt! Now everything is slowly being put back together. New drywall has been put up to cover all the holes from the plumbing and smooth out any rough patches. This week they will be painting all the trim and walls too to be bright white.
They have begun laying our slate tile which will fill the entire room and flow into the hall and mudroom as well.
It's still very dusty from all the drywall but you can tell how much this flooring is going to transform the room!
We also now have cabinets! The day we got our cabinets installed was like Christmas morning to me (and this week when our appliances come, it will be like Christmas morning part two!). We are still waiting on counter-tops too which will be installed next week. I love the gray color of the cabinets against the slate floor and the pops of brass with the knobs.
Below you can see our stainless farmhouse sink that has been installed too. All of our appliances are also stainless- the dishwasher will be in the open space to the left and the range and vent hood will be in the big open space to the right.
There is also a custom enclosure for our fridge (far left). I'm really excited about this because it's a little pet peeve of mine when fridges stick out way past the cabinets. There will be a white subway tile backsplash (with dark grout) over any part of the back wall that isn't covered.
The cabinet to the far right by the window is a spice rack pull-out! This will be perfect to have right by the range and oven, and I may also do some mini floating shelves on the wall above it (to the right of the range) for olive oils, vinegars, cooking sprays, and other necessities we will need nearby.
Below you can see a close up of the cabinet color/finish and the brass cup handles. This cabinet is a double trashcan pull-out.
Thanks to our friend TJ at Kitchen Concepts for working with us on these custom cabinets and giving us just what we wanted! I highly recommend Kitchen Concepts for any kitchen projects or custom cabinetry that you need, they really go above and beyond to make the experience as easy as possible and are super organized (which I love!). I can't wait to see how it looks with the whole wall filled once the appliances are in. If you want to catch up on our full design plans for the kitchen check out our post here.
Now onto another fun space: the butler's pantry, which looks just a little different since the last time I shared about it.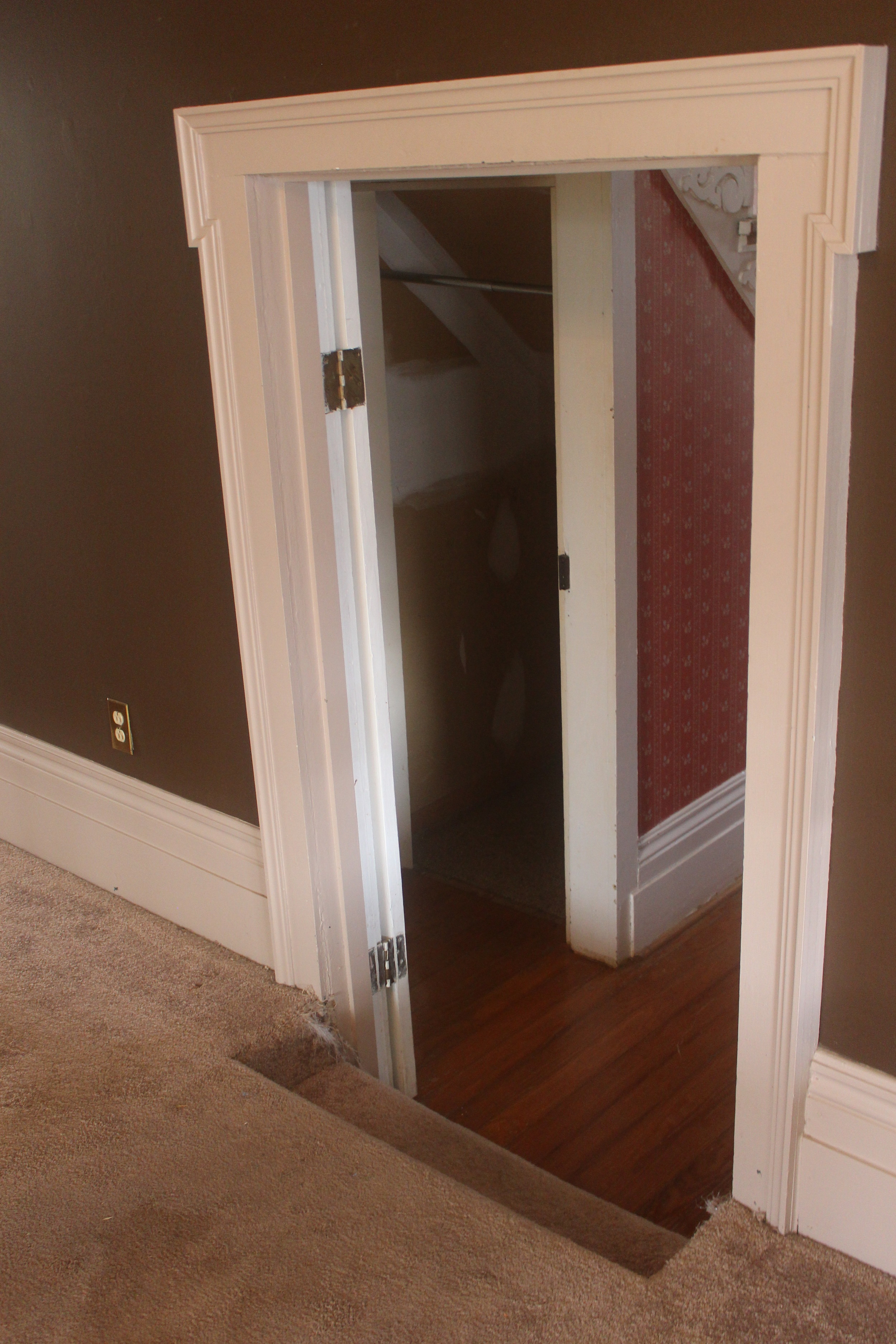 It is amazing how much difference a little drywall can make! This room has beautiful high ceilings but they were super outdated looking with popcorn-like texture. Now they are completely smooth and will be getting a fresh coat of paint this week (along with all the trim and walls!)
Another big change that you will notice is that the awkward low doorway is gone! Now it is just a regular wall, and it makes the room feel even bigger!
Next up for this room is flooring! We chose a super unique tile that looks like white-washed brick (see below). I think this will be perfect for the French industrial farmhouse vibe of the kitchen and butler's pantry. I chose a dark gray wall color to contrast since the floors and trim will both be so light. If you want to read more about our plans for this room check out our post here.
I'm already getting anxious to decorate all these spaces but I have to be patient! I'm looking for a fun bright but distressed looking rug for this room and I hope to also paint those old glass french doors (into the mudroom) an unexpected pop of color. I've made a short summary of some of our sources used in the kitchen and pantry below. Keep checking back for more updates as we get closer to move-in day!
xoxo
Emily