My husband and I like to think of ourselves as charcuterie experts. If there's ever a charctuerie on a menu, chances are we are ordering it. We also love making them at home, and it's pretty much our go-to meal for entertaining. There's such little prep work, it's an easy meal to share, and it makes for a beautiful spread.
Putting together a charcuterie platter can be overwhelming because there are so many choices and possibilities. We have realized that we need to have a very clear plan before going to the grocery or we end up spending a ridiculous amount of money, and often have way too much leftover. After making a few charcuterie boards for parties and dinners, we decided that it's better to limit your ingredients but have plenty of each item. I've narrowed down the choices for our "must-have" charcuterie list that you can put together in under 10 minutes!
Here's what you need (you can adjust the amounts depending on how big of a crowd you are prepping for- the amounts listed will feed 6-8 people):
4 ounces Lomo (cured beef tenderloin)
8 ounces Spanish Chorizo (you can choose from mild or hot flavor)
6 ounces Manchego cheese (a deep and nutty flavored cheese with a light acidity)
6 ounces Welsh Cheddar cheese (extra sharp and robust cheese)
4-6 ounces goat cheese (creamy and mild cheese)
1 small jar pepper jelly (use a couple scoops to top the goat cheese)
1 loaf french bread
olive oil
salt, pepper, garlic powder
Begin by slicing up all your cheeses and meats into bit size pieces (the lomo is usually already sliced). The goat cheese usually comes in a small log shape so you just have to unwrap it and top with a couple scoops of pepper jelly. Don't forget you will need a small knife or spreader for your goat cheese.
I like to make my own mini toasts, but if you would like to make this appetizer even easier, you can just purchase crackers or use plain sliced french bread. To make your toasts, slice your French bread into thin pieces.
Toss the slices in a bowl with a couple of tablespoons of olive oil and a generous sprinkling of salt, pepper, and garlic powder.
Heat a couple more tablespoons of olive oil in a skillet. When the oil is hot, add the bread slices and lightly toast them on each side flipping with tongs (similar to how you make a grilled cheese). Remove them from the skillet and place on a paper towel to soak up the extra oil. Add all your ingredients to a cutting board or cheese plate to serve!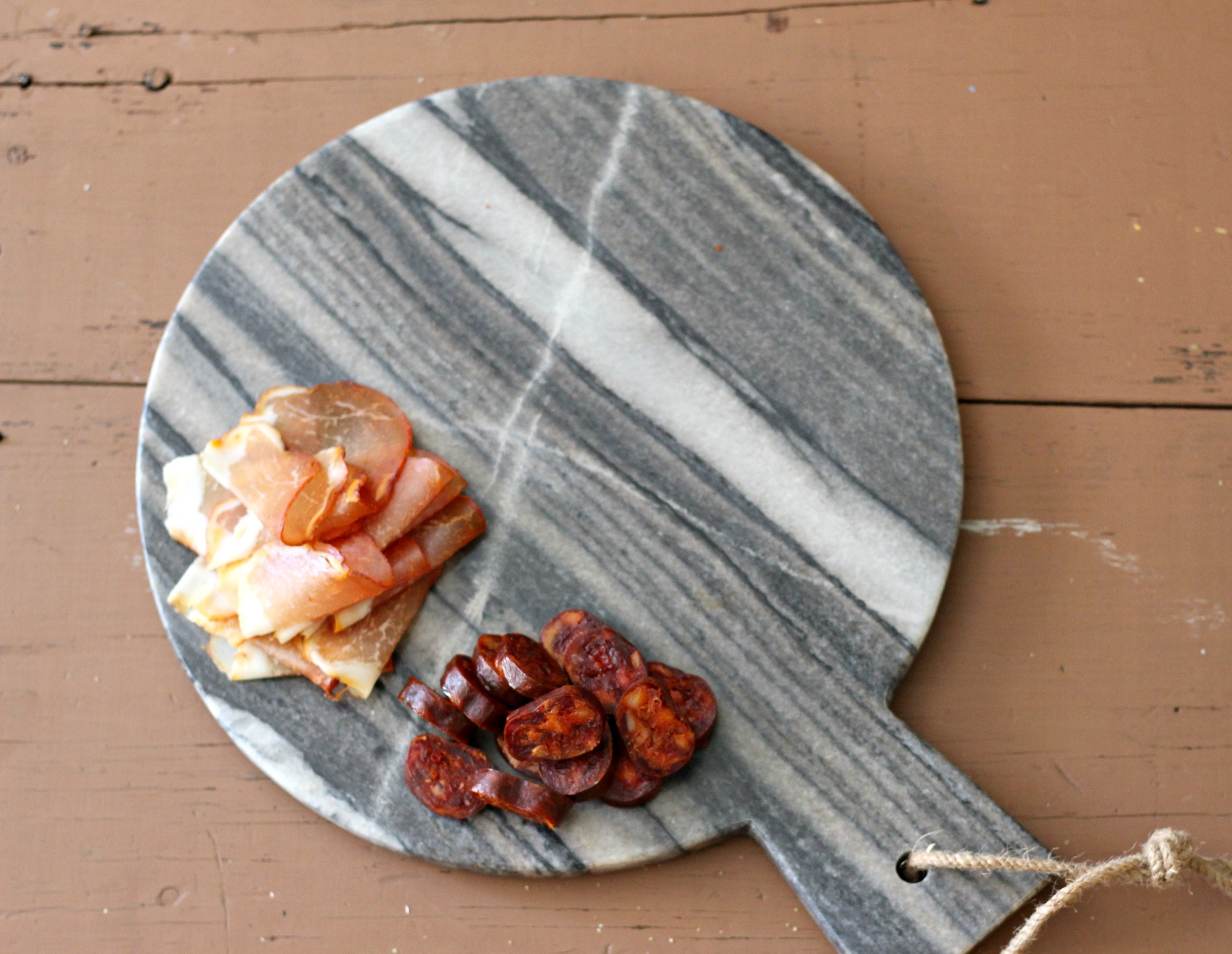 These are all ingredients that just about everyone will enjoy and the best part is that they all taste good together, so you can try so many different combinations! Need something to serve your charcuterie on? Check out our new black marble cheese boards (as seen in these photos). They make your charcuterie spread look even more beautiful and they also look super chic hanging in your kitchen when you aren't using them. This is sure to be a hit at your next party and probably the easiest appetizer you will ever make! Enjoy!
xoxo
Emily