While I was putting together my recent post on "How to Make the Coziest Bed", I asked my followers to let me know if they had any bedding related questions that I should include and answer in the post. I got so many great questions but the original post ended up being so long and full of information that I decided to do a separate post to answer your questions! I pulled the 4 most popular questions and answered them below including lots of inspiration photos + product links too! I hope this helps answer your questions and gives you a little design direction!
Let's start with the most popular questions I got asked:
I was surprised that this was the number one question I got asked about bedding, and it really doesn't even have to do with making a bed necessarily. So many of you wanted to know what I do with all of my pillows every night because many of you hate throwing yours on the floor. We have one of these extra large vintage wire standing baskets (linked from my shop below) in the corner of our room that holds all our extra pillows and even a few quilts and blankets. I love these things because they are tall, easy to throw things into, and keep everything far off the ground. They also look cute and more like a decoration or piece of furniture than just storage.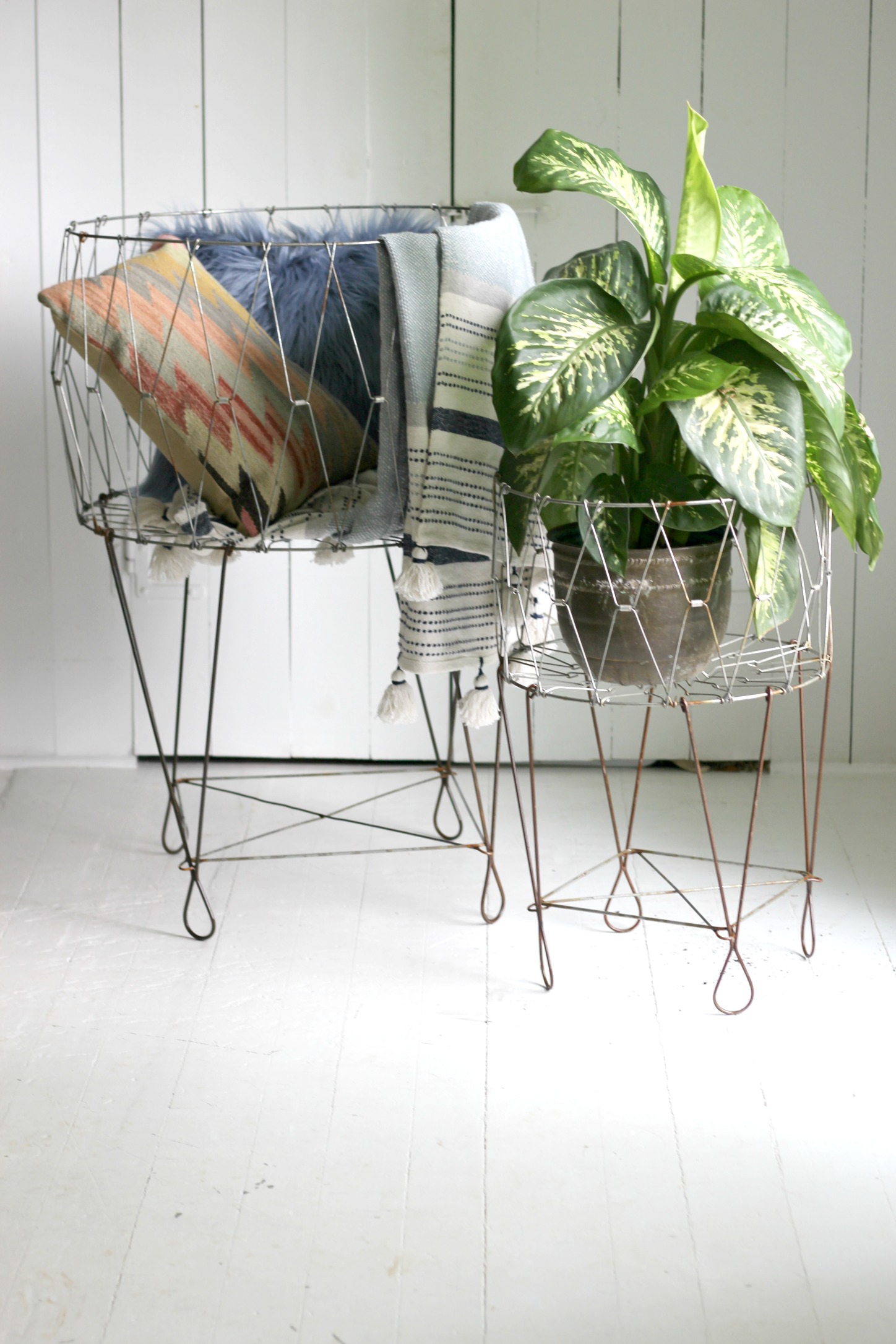 Wire Standing Basket
Reproduction iron wire storage basket with rusty patina, collapses flat for easy transport and storage. Sizes pictured are XL (left) and medium (right).
Small Measures 13.75" diameter x 22.75" tall. Medium measures 17.75" diameter x 27.5" tall. Large measures 21.5" diameter x 31.5" tall. Extra large measures 25.5" diameter x 34.5" tall.
Sourced from India.
*oversized shipping charge of $20 for this item will be added at checkout. Enter code LEX for free delivery in Lexington, KY only.*
Besides the wire standing baskets, there's also tons of other ideas for creating extra storage in your room that is super easy to use and looks cute too! Utilizing the space at the end of the bed is one of the most popular tricks. I've linked a few of my favorite ideas below:
You can use an old trunk at the end of the bed or just build one yourself if you're feeling handy (plans linked above). This provides tons of storage plus doubles as a bench you can sit on when it's closed! Since it's at the end of the bed, there's no excuse not to just toss the pillows down there at the end of the night!
If you prefer a more modern look, this modular style of bench is perfect for extra storage at the end of the bed. You can use the little nook inside to stack pillows, extra blankets, or shoes!
Another inexpensive DIY idea is to add wheels to an old wood box or crate. You can find these in a variety of styles and sizes at garage sales, thrift stores, or antique stores. You can even paint or stain it to match the decor in your bedroom.
If you like the idea of a storage bench, but hate the look of traditional storage benches with the lift up seat, try a more elegant option like above. It's completely open but the platform base gives you tons of room to stack pillows underneath and the legs help contain everything inside.
Another DIY project if you like to build things on your own! This is a Pottery Barn knock-off that would be perfect for holding pillows at the end of the bed or beside the bed!
If you don't have space for a full bench, just placing a couple of small crates or baskets at the end of the bed works too! I love the look of these canvas and leather totes above and how they perfectly match this neutral + navy bedroom.
Yes you can! I would either do one of the following or a combination of both to achieve a bright, cozy bedroom look without having to stress over white bedding:
1. Paint your walls white instead: If you really want a super light and bright bedroom but don't want to worry about keeping white bedding clean, try painting the walls super light to still give the crisp and clean effect. A super light gray, greige, or just a classic white will do the trick. You can up the brightness even more by adding simple, sheer white curtains or shades as well. A bright, shaggy or textured rug also does wonders for adding that super clean and cozy feel to your space. And no, it doesn't make your bedroom boring to have white walls, just check out some of my favorite examples below! When you have a simple, bright, and blank slate- you can really have fun with the bedding and accessories while still achieving that crisp, clean, cozy look!
2. Go with pale, layered neutrals on your bed with lots of cozy textures: This is one of my favorite color combos for a bedroom anyways and such a modern yet classic take on bedding. You can still totally give your bed that super cozy, crisp feel with soft, pale neutrals like grays, tans, taupes, creams, and blush. You can even throw in some deeper colors like charcoal, chocolate brown, mustard, and navy for contrast! Texture is also a huge key in creating that cozy, layered look! Mixing and matching materials like linen, velvet, and/or faux fur adds lots of dimension and really gives you a high-end look. Take a look at some of my favorite examples of pale neutral bedding below:
My number one pieces to splurge on would be either sheets or a duvet cover. Other bedding items are easy to find and might be pieces you want to play with and switch out more often like quilts, blankets, and throw pillows. But finding a good solid-color, neutral duvet and sheets is something you can build your bedding off of for years. Also you can't fake quality with those two pieces and you want them to be as comfortable as possible. In my opinion, sheets are most important because you are laying right on top of them and underneath them every night. Duvet covers are also important because they usually add the majority of weight, warmth, and "fluffiness" to the bed which ultimately gives it that super cozy look. I've linked some of my favorite sheets + down comforter option below (top two are the ones I currently have on my bed). If you are in the market for sheets be sure to use code " GATHEREDLIVING20" for 20% off all Sleep Outfitters sheets and FREE shipping! The Dream Fit sheets linked below are the sheets I'm currently using and they are amazing (you can read more details on my experience with them here)!
Besides the two pieces I listed above, everything else for your bed is super easy to find on a budget. I love Target's bedding and they really have good quality pieces, even sheets and duvets if you are needing more budget-friendly options for those. Both the Fieldcrest brand and Threshold brand are great quality, stylish, and super affordable. Below I've listed my favorite stores to shop at for specific pieces and then some of my top picks from each:
Quilts: Target- hands down! They have so many great quilts and I've had many of my quilts from there for years and they have survived hundreds of washes and plenty of dog wear and tear! Their quilts are super soft but still heavy and high quality feeling.
Throw Pillows + Blankets: Target, Homegoods, Marshall's, TJMaxx, and Urban Outfitters. Homegoods is pretty much my go-to as far as finding the most variety for throw pillows and blankets (and most are under $25 too!). I also love Target's pillows and blankets (especially a few of the cotton and knit ones I've linked below).
Basics- bedskirts, pillowcases, + duvets: H&M has really great linen duvets, sheets, bedskirts, and pillowcases if you are looking for a super cozy, laidback, and minimal look. They are so soft and great quality for the price (and about 1/3 of the price of the linen options at Pottery Barn or Anthropologie). I've purchased both the linen duvet and the bed skirt for our guest bedroom and I was super impressed with the quality!
Hopefully that answered some of your questions and gave you a little design inspiration for your bedding. I'm looking forward to hopefully doing more of these decorating q & a's in the future! If you have any specific design dilemmas you want help with, feel free to ask your questions in the comments below!
xoxo
Emily