If you are trying to cut calories and carbs, while sneaking some veggies into your meals, spaghetti squash is a no brainer. It gives you both the texture and taste of carbs without any of the guilt! As someone who constantly craves pasta and mac and cheese, It is my secret to all of my favorite healthy dinners! I am always looking for new ways to prepare it, so today I tried making spaghetti squash lasagna for the first time. It was so delicious and much more filling than other spaghetti squash dishes I have made. My husband even said "You need to make this every week!"
Here's what you need to gather for your spaghetti squash lasagna:
Meat Sauce-
1 lb. ground pork
4 oz. pancetta
14.5 ounce can diced tomatoes
8 oz. can tomato sauce
1 teaspoon garlic powder
1/2 teaspoon red pepper flakes
1 teaspoon salt
1 teaspoon pepper
_______________________________________
1 cooked spaghetti squash
2 tablespoons olive oil
salt
pepper
1/2 cup diced celery and onion
15 ounces ricotta cheese
1 small sliced zuchinni
mushrooms (your choice)
5-6 cherry tomatoes
fresh basil
16 ounces shredded mozzarella cheese
Begin by cooking your spaghetti squash. I liked to roast mine in the oven with olive oil, salt, and pepper. You can get full instructions on my favorite way to cook spaghetti squash here. You will need to have your spaghetti squash cooked, scraped out, and ready to go to assemble your lasagna.
While your spaghetti squash is cooking you can begin on your meat sauce. If you want to cut the prep time of this dish down significantly, just use a store bought sauce. Add 2 tablespoons of olive oil to a skillet on high heat. Add 1/2 cup diced onion and celery and let it simmer for 5-10 minutes, stirring regularly. Add the pork and pancetta and cook until the pork is brown and cooked through.
In a separate saucepan add your canned tomatoes and tomato sauce with seasonings (red pepper flakes, garlic powder, Italian seasonings, salt, and pepper). When your pork is done cooking, add the entire skillet (celery, onion, pork, and pancetta) to your tomato sauce saucepan. You can let your sauce continue to simmer on low heat while you prepare the rest of the lasagna.
Now you can start assembling your lasagna. I used a medium size baking dish and began with my cooked spaghetti squash on the bottom. Next I added a layer of meat sauce, followed by a layer of ricotta cheese. I topped the ricotta with some sliced veggies (zuchinni and mushrooms, but you can use as many or as little veggies as you want!). I added another layer of meat sauce on top of the veggies followed by ALL the cheese! Finally I topped the cheese with a few cherry tomatoes (cut in half), some chopped fresh basil, and a sprinkle of salt and pepper.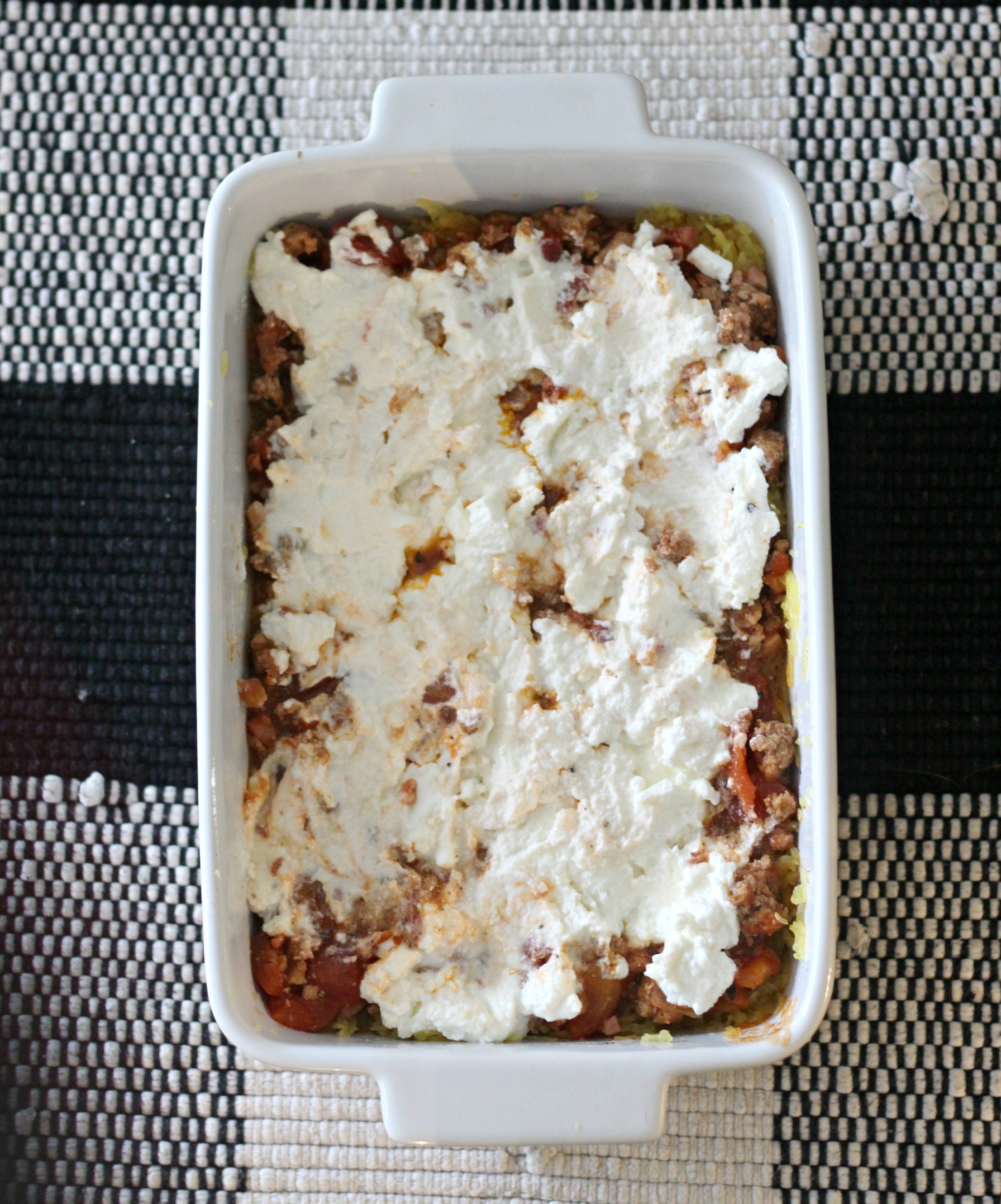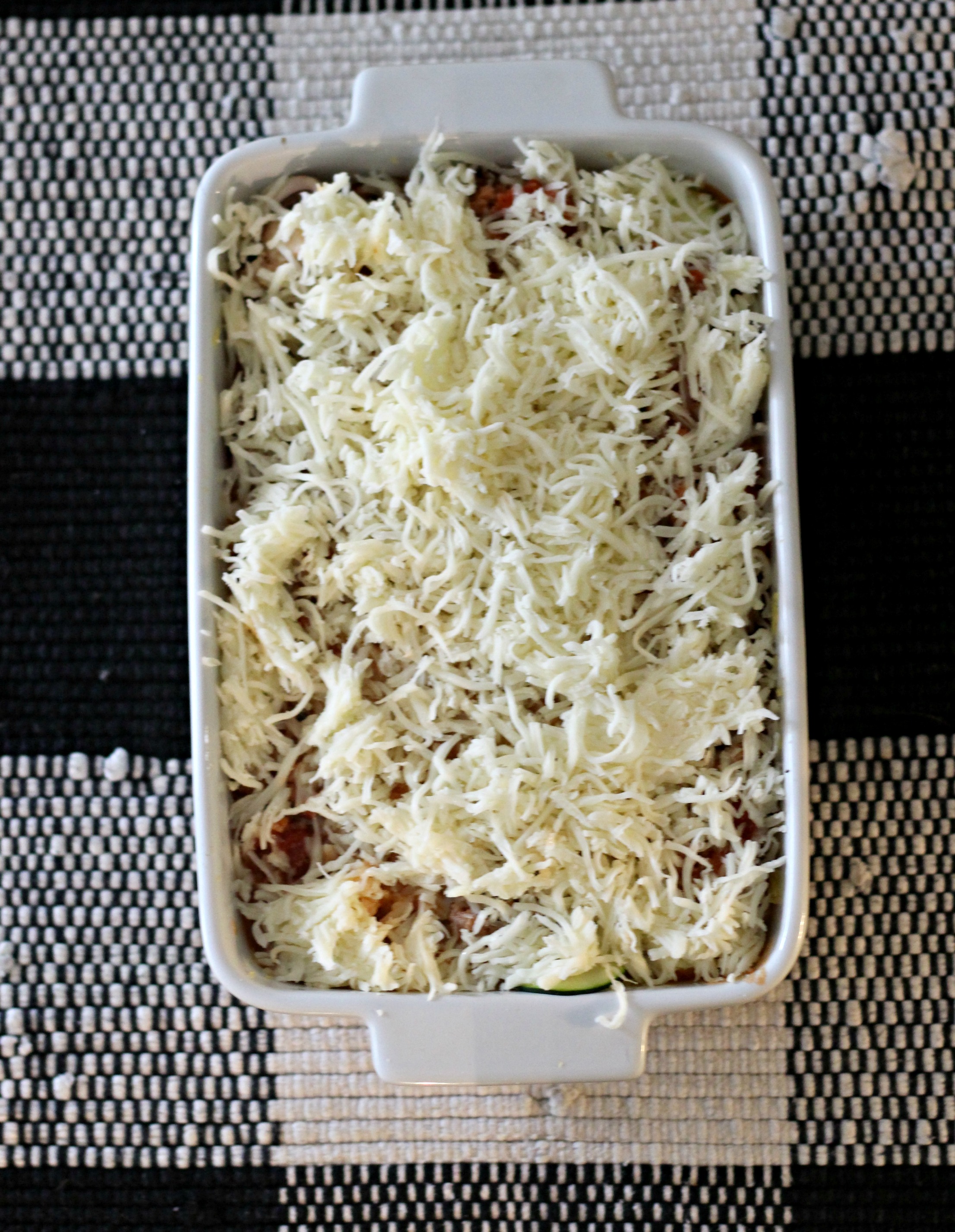 Cook your lasagna at 350 degrees for about 30 minutes until bubbly and then broil for an additional 5-10 minutes to get the cheese golden brown.
How good does all that golden, melty cheese look?! I'm not going to lie, it's probably my favorite part of this dish! As always you can substitute and make this recipe your own to accommodate your own dietary needs: whether you cut the dairy, make it meatless, or add more vegetables. The pork and pancetta add so much flavor to the meat sauce and makes the entire meal extra hearty and filling. Since you are using spaghetti squash instead of flat lasagna noodles, this dish does not stack up as pretty and clean as traditional lasagna. After it bakes all the ingredients melt together and while they are super delicious that way, it kind of looks mushy when you scoop it out. Still a winning dish in my book and perhaps my new favorite way to prepare spaghetti squash!
xoxo
Emily